Adelaide is Ricky's sister, and the first antagonist of the game.
Her hobby is: Counting Money
Her Job is: CEO.
Her profile is: Ricky's older sister. A powerful presence.
Bio: A hard-headed businesswoman who will do anything for the good of her family.
At first she didn't see the point in doing fashion shows.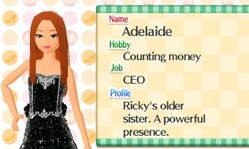 This is her Profile (The picture)
She has a very strong relationship with her brother, Ricky.
In the game, she gets married and she asks the player to design the wedding dress.
Her favorite style of clothing is Chic.